The DEN@Viterbi Experience
DEN@Viterbi strives to meet the needs of engineering professionals, providing the opportunity to advance your education while maintaining your career and other commitments. By breaking down geographical and scheduling barriers, DEN@Viterbi allows you to take your classes remotely anytime and anywhere.
Program participants can take advantage of the flexibility offered by DEN@Viterbi, taking courses completely online through DEN@Viterbi or using a hybrid model of both in-person and virtual participation.
Same Faculty. Same Program. Same Degree.
Online DEN@Viterbi students undergo the same academic requirements, curriculum, and must adhere to the same academic standards as on-campus students. Therefore, DEN@Viterbi students earn the exact same degree and diploma as on-campus students. There is no difference between remote students and on-campus students.
DEN@Viterbi Course Management
DEN@Viterbi employs a state-of-the-art, proprietary web-based delivery system that empowers students from around the world to access classes live or on demand. DEN@Viterbi students view the same lectures as on-campus students, with fresh content every semester. Course lectures are delivered both synchronously and asynchronously through DEN@Viterbi's course management system and provide real-time interactivity.
Although on-campus attendance is not required, DEN@Viterbi students can also come to the USC campus to attend courses and interact with other classmates through DEN@Viterbi's unique blended delivery system.
Courses are transmitted from studio classrooms at the USC campus via an Internet-delivery system. DEN students view the same lecture as on-campus students.
Students can view the courses live, or later at their convenience. Lectures are archived for the entire semester.
Professors' in-class notes are digitized and posted so students can print them and watch the lecture.
DEN@Viterbi's live instruction is highly interactive - students can communicate with professors and fellow classmates via telephone, live chat, virtual meetings and threaded discussions.
DEN@Viterbi students have access to a wide variety of web-based tools for communicating with professionals and peers during and outside of class hours.
Live instruction is interactive - students can call by a toll-free phone line to ask the professor questions. Additionally, students can provide remote presentations.
A variety of collaboration tools are available to students and faculty that will facilitate synchronous and asynchronous collaboration. Some of the most commonly used examples include: Zoom, Cisco WebEx, Adobe Connect, Google Hangouts, Piazza and Skype
Administrative Support
Online students have full support for academic advisement and enrollment services from the Viterbi Admission & Student Engagement (VASE) office. Online orientation is hosted each semester for new students, and a team of advisors is available to provide guidance. Additional services provided include: career services, library services, writing workshops, financial aid office and services, bookstore, USC email and USCard.
Homework and Exam Support
Online DEN@Viterbi students receive support from a dedicated homework and examinations team. Students upload homework assignments within the online course management system.
DEN@Viterbi homework is submitted electronically, and students follow the same deadlines as on-campus students. You can also print out lecture notes prior to viewing the archived course.
Exam Coordination Support
DEN@Viterbi student exams are proctored online or at testing centers near your home, or work during the same time frame as on-campus examinations. A dedicated DEN@Viterbi Exam Coordinator will help arrange for exams to be proctored when needed. For students who work or reside in Los Angeles, Orange and Ventura counties, examinations will be taken at USC's main campus on the date and time stated on the course syllabus when in person proctored exams are required.
Business Travel
In the event of mandatory business travel, students are still required to take the exam at an authorized testing center. The Exams Coordinator can assist students with finding a proctoring location within the vicinity of the mandatory business travel destination as long as the student informs the Exams Coordinator at least 2 weeks in advance.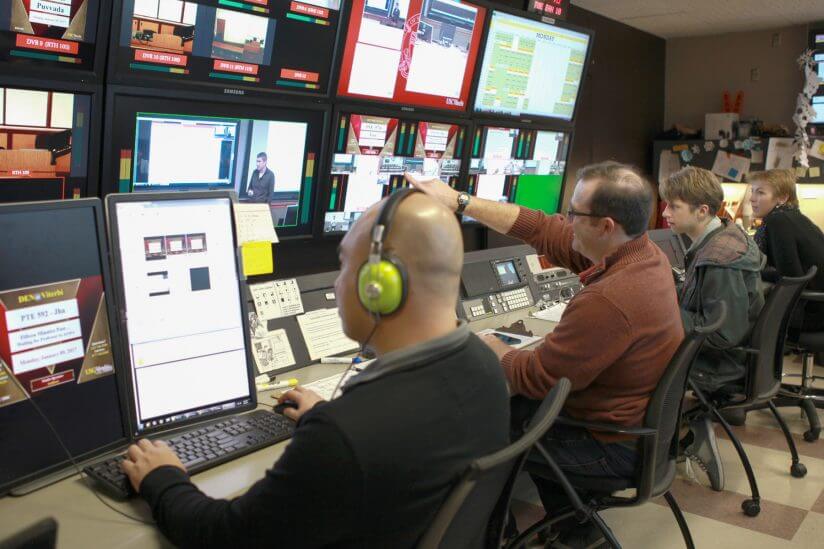 Technical Support
DEN@Viterbi maintains its own dedicated help desk and IT support services. Live help desk hours are provided throughout the extended class schedule. The dedicated IT staff monitors and supports systems and technical services. The help desk provides phone, email and remote desktop support to all students and faculty participating in courses offered through DEN@Viterbi as part of the Viterbi Admission & Student Engagement (VASE) office.
Published on May 30th, 2017
Last updated on August 18th, 2023