Stacey Finley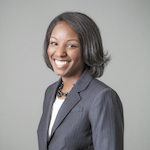 Gordon S. Marshall Early Career Chair and Associate Professor of Biomedical Engineering, Chemical Engineering and Materials Science, and Biological Sciences
Education
Doctoral Degree, Chemical Engineering, Northwestern University
Bachelor's Degree, Chemical Engineering, Florida A & M University




Biography
---
Stacey D. Finley, Ph.D., is an Associate professor in the Department of Biomedical Engineering at the University of Southern California. She is holder of the Gordon S. Marshall Early Career Chair and the Director of the Center for Computational Modeling of Cancer (http://modelingcancer.usc.edu). Dr. Finley has a joint appointment in the Mork Family Department of Chemical Engineering and Materials Science and the Department of Biological Sciences (Quantitative and Computational Biology section). She is also a member of the Norris Comprehensive Cancer Center.

Dr. Finley received her Bachelor's degree in Chemical Engineering from Florida A & M University in 2004. Her graduate studies were completed in 2009 in Chemical Engineering at Northwestern University and involved using computational tools to predict and estimate the feasibility of novel biodegradation pathways. Her postdoctoral studies at Johns Hopkins University focused on computational modeling of VEGF signaling pathways. She was awarded postdoctoral fellowships from the NIH National Research Service Award and the UNCF/Merck Science Initiative. Dr. Finley's current research applies a systems biology approach to develop molecular-detailed computational models of biological processes related to human disease.


Research Summary
---
The Computational Systems Biology Laboratory at USC develops mechanistic models of biological processes and utilize the models to:



- gain insight into the dynamics and regulation of biological systems

- synthesize and interpret experimental and clinical observations

- provide a quantitative framework to test biological hypotheses

- contribute to the development of novel therapeutics for pathological conditions



We collaborate closely with experimental and clinical researchers, in order to construct experimentally validated computational models that increase our understanding of specific biological processes. These fruitful collaborations enable experimental testing of the model predictions.



The main projects are focused on applying computational modeling to study angiogenesis, metabolism, and immunotherapy. Current projects study how these processes are exploited in cancer. The biochemical networks that regulate these processes involve numerous cell types, molecular species, and signaling pathways, and the dynamics occur on multiple timescales. Therefore, a systems biology approach, including experiment-based computational modeling, is required to understand these complex processes and their interconnectedness in cancer. Models can simulate biological processes under pathological conditions and predict interventions that restore normal physiology. Additionally, the models can identify which tumors will respond favorably to a particular therapy, aiding in the development and optimization of effective therapeutics.
Awards
---
2015 Diverse: Issues in Higher Education Emerging Scholar Award
2014 National Academy of Engineering Participant in Frontiers in Engineering Education Symposium
2010 National Institutes of Health Ruth L. Kirschstein National Research Service Award
2010 Elmer Gaden Jr. Award
2008 Merck Poster Award
2006 National Science Foundation Graduate Research Fellowship
Appointments
Biomedical Engineering
Biological Sciences
Mork Family Department of Chemical Engineering and Materials Science
Office
DRB 140
Corwin D. Denney Research Center
1042 Downey Way, Los Angeles, CA 90089
USC Mail Code: 1111
Contact Information
(213) 740-8788
sfinley@usc.edu
Links