Herbert Schorr.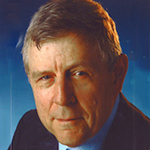 Research Professor Emeritus of Computer Science
Education
Biography
---
Herbert Schorr graduated from City University of New York and received his Ph.D. in Electrical Engineering from Princeton in 1963. He was an Instructor of Electrical Engineering at Princeton during the 1961 academic year. During 1962-63 he was a National Science Foundation Postdoctoral Fellow at Cambridge University, Cambridge, England. Upon returning from England, Dr. Schorr became an Assistant Professor at Columbia University for the year prior to joining IBM.

Dr. Schorr joined IBM as a Research Staff Member at Yorktown in 1965. In 1966 he became Manager of Systems Architecture and Programming for the Advanced Computing System project in Menlo Park, California, and later served on the Corporate Technical Committee in Armonk. In 1968 he rejoined the Research Division as Director of Computer Sciences and in 1973 was named Vice President, Product and Service Planning for the Advanced Systems Development Division of IBM. In August 1977 he again rejoined the Research Division as Department Manager of Systems Technology, now called the Systems Laboratory, and in November 1981, he was named Vice President, Systems, Research Division.

In October 1984 he was named Group Director, Products and Technology, IS&SG. In 1987 he was named Group Director, Advanced Systems, Information Storage and Systems Group and was responsible for the introduction of new, advanced technology. In particular, he was Artificial Intelligence and Image Champions for the IBM Corporation and managed Project Offices in both areas responsible for Products, Marketing, and Internal Applications of these technologies.

Dr. Schorr is the Executive Director of Information Sciences Institute of the University of Southern California, a position he assumed in 1988. He is also a Senior Associate Dean of Engineering and a research professor in the USC Astronautics and Space Technology Division and Computer Science Department. As Senior Associate Dean, Dr. Schorr is in charge of the School of Engineering's Distance Education Network and Information Technology Program. Dr. Schorr is also co-head of the High Performance Computing Center.
Dr. Schorr is a member of the Institute of Electrical and Electronics Engineers, the Association for Computing Machinery, and the American Association for the Advancement of Science.


Appointments
Information Sciences Institute
Office
OHE 310
Olin Hall of Engineering
3650 McClintock Ave., Los Angeles, CA 90089
USC Mail Code: 1454
Contact Information
(310) 822-1511
schorr@isi.edu
Links