MS in Civil Engineering - Transportation Engineering
Application Deadlines

Spring 2024:
September 15, 2023
Fall 2024:
January 15, 2024
---
A region's physical, economic, and social structure is fundamentally tied to its transportation system. The field of Transportation Engineering focuses on the planning, design, construction, management, and performance of these vital systems. Transportation systems consist of facilities, vehicles, control mechanisms, technology, and policies that combine to permit the efficient transit of people and freight. The MS in Civil Engineering (Transportation Engineering) program offers students an opportunity to acquire special academic depth in several aspects of this exciting field.
This program requires completion of 28 units of coursework

Eligible for the OPT STEM extension
APPLICATION DEADLINES
| SEMESTER | DEADLINE |
| --- | --- |
| Spring 2024 | September 15, 2023 |
| Fall 2024 (Civil & Environmental Eng. only) | January 15, 2024 |
---
ELIGIBILITY CRITERIA
Applicants to the master's of science programs in Civil Engineering - Transportation Engineering are required to have a bachelor's degree or be in the process of completing a bachelor's degree. Degrees in any engineering or engineering-related disciplines are frequently represented among our program applicants, including but not limited to the following:
Civil Engineering

Transportation Engineering
Applicants without a Bachelor's degree in the preferred majors listed above will only be considered with coursework and demonstrated proficiency in the acceptable courses listed below (or equivalent). 
Applications are reviewed holistically; simply taking these courses does not guarantee admission.
---
APPLICATION REQUIREMENTS
The following materials are required to be included with your online application:
Transcripts
Resume/CV
Personal Statement
Letter of Recommendation (2 required)
NOTE: The GRE is not required for 2024 applications.
For tips on completing your application visit
Ready to Apply
The following link will take you to an overview of the tuition & fees for graduate engineering students, including payment information. Both on-campus and DEN@Viterbi students pay the same tuition
TUITION AND FEES OVERVIEW
---
Estimated Cost of Attendance - 28 Unit Program
Download the Cost of Attendance to see a summary of tuition and fees by semester. The document is a typical example and the number of courses, and time to complete the program, will vary by student.
   DAVID CORONA
What were the main reasons you chose to pursue this graduate program at USC?
As I was researching Masters programs for Transportation, USC came up as one of the most renowned graduate schools for Civil Engineering in the country. With the university's emphasis on research and reputation in the transportation sector, I wanted to challenge myself from the work I became accustomed to in my undergraduate studies. As I am striving towards working for companies like the Department of Transportation or CalTrans, USC was perfect for me given its location in the City of Los Angeles as well as the many networking opportunities with professors, organizations, alumni, and even fellow students.
Tell us about an exciting and unforgettable experience from your time so far at USC.
Definitely, the first time I walked into the Memorial Coliseum for the first football game of the Fall semester, I was in awe at the excitement and level of school spirit around me, something I hadn't felt since my high school years. To have the chance to share that experience with some of the friends I made in the first short weeks of going into graduate school, to me it was truly an unforgettable experience.
What are some personal achievements or experiences you'd like to share?
My most recent personal achievement was having the chance to present research I conducted to the Transportation Research Board. I was given the opportunity to present my findings on efficient forms of concrete paving methods to board members and engineers across the country.
What advice would you give future Viterbi students?
One word: balance. When you're in graduate school, it's important to always stay ahead of your work, to get to know your fellow classmates, and to not be afraid to ask questions to your professors. At the same time, you'll want to take a moment every now and again for yourself, whatever that may be. There were times when I felt that my research would get the better of me, but after spending a day with friends or going out for a hike, I felt refreshed and ready to tackle the next task in my work. Work-life balance is important for a healthy lifestyle.
.
   ZHENLU HUANG
What attracted you to civil, and more specifically, transportation engineering?
Civil Engineering was a popular major when I started university, so my parents and I decided to choose civil engineering as my major. There are also many sub-majors under civil engineering. I chose transportation because it is the most related to people's daily life — it influences people's decisions of their living place, workplace, travel routes, travel mode and many others. I hope to improve the people's travel experience in the future. 
Why did you choose USC for your graduate studies?
I chose USC based on the US News and QS university rankings, because it ranks in the top 30 for both, which means it has high-quality education resources. The major I was admitted under was transportation engineering, which focuses on the planning, management, and performance of transportation systems. It was the closest to what I was most interested in learning. Additionally, I knew the students in this major have many opportunities to participate in the local professional society, which would have great benefit on my career development. 
What classes, professors, or research during your time at USC had the biggest impact on you?
USC provides students with precious academic resources, and we learn so much knowledge both in class and out of class. Professors are knowledgeable and well-prepared. They also encourage the students to join professional organizations and sponsor them for some activities, which are useful to connect with professionals and to explore our career interests. Professor James Moore and the transportation center METRANS had a great impact on my career development. I learned about METRANS events in my first year of studying at USC, and I found them very helpful for learning what is happening in the transportation area. I not only attended METRANS events but also contributed by volunteering at several seminars. I am grateful for the opportunities METRANS events give students studying in the transportation field to learn new transportation technologies and get in contact with professionals. I also joined the METRANS Mentor Program, which helped her learn more about transportation organizations like ITS and WTS Orange County Chapter. 
.
  YI LI
How has your degree program impacted your your career?
I learned several technical tools in USC that really helps me to land the job, for example, ArcGIS, data analysis skills, some programming languages. When attending interviews, the employer highlighted these skills. USC has equipped lots of excellent courses. As I know, our MSCE program also has some courses which combines the frontier skills into our Transportation study, which is super helpful in my career.
.
  ZESHENG ZHANG
How has your degree program impacted your your career?
MSCE is not only great advancement in learning theoretical knowledge but also in line with industry reality. The software we learned in class is also very normal in the market. Many professors are also experts in the industry, and they know the current needs of the industry. That really helped me get a good job.
2022 First Destinations Survey - Outcomes*
Alumni Employment - 2022*
(Companies & Job Titles)
Agility - Site Engineer  

Air Astana – Commercial Pilot  

ARAMCO - Lead Project Engineer, Project Engineer, Project Engineer III, Projects Management, Project Engineer  

Arcadis Inc. - Environmental Engineer  

BeaconFire Solution Inc. - Software Engineer  

Boeing - EE System Design Engineer   

Charles Abbott Associates Inc. CAA - Assistant Engineer  

City of Los Angeles - Assistant Division Manager 

Clinpharma Consulting Global Group LLC - Engineer Intern 

Dow Chemical - Civil/Structural Engineer  

Dreyfuss Construction - Assistant Project Manager  

Emerald City Homes, Inc. - CEO - Founder  

Fehr & Peers - Engineer/Planner I  

FTF Engineering, Inc. - Engineering Designer  

Google - Software Engineer  

Hathaway Dinwiddie - Preconstruction Engineer, Project Engineer 

HSA & Associates, Inc. - Structural Designer 

JCE structural Group - Structural Designer  

KAFD Development Management Company - Prevention and Risk Manager  

KPFF Consulting Engineers - Civil Engineering 

Lily, Inc. - Vice President 

Los Angeles Department of Water & Power - Civil Engineering Associate   

MainStreet Property Group LLC - Assistant Development Project Manager 

Michael Baker International - Civil Associate I Water/Wastewater Engineer  

MTM Construction, Inc. - Project Engineer 

National Grid - Graduate Development Program (Associate Engineer)   

Onshore Maintain Potential Projects Dept. Saudi Aramco - Project Engineer  

Pinnacle Structural Engineers, Inc. - Graduate Engineer 

PMI KSA Chapter - VP of Marketing  

Propel Engineering, Inc. - Transportation Engineering Specialist I 

Saudi Aramco - Project Engineer 

Saudia Aerospace Engineering Industries SAEI - Facility and Equipment Planning Manager  

Secretariat International – Associate 

Southwest Value Partners - Senior Asset Manager  

TEKsystems - Quantity Surveyor Engineer 

Turner Construction - Field Engineer  

University of Southern California - Web Developer I, Resource Employee 

Webcor Construction LP - Project Engineer
.
Internships (Previous Years)
Aperture LLC; Barry & Wynn Architects, Inc.; Condon Johnson & Associates; Corgan Associates; DPR Construction; Mark G. Anderson Consultants, Inc.; Nebraska Department of Transportation; Structural Focus; Tipping Structural; San Francisco Municipal Transportation Agency; VINCI Construction LLC; W.E. O'Neil; Walter P. Moore and Associates, Inc.; West Power Energy; WSP USA Inc.
.
* Information is based on a voluntary survey and should not be interpreted as a comprehensive view of the 2022 graduating class.
This program is not available via DEN@Viterbi.
Please complete the following form for more information.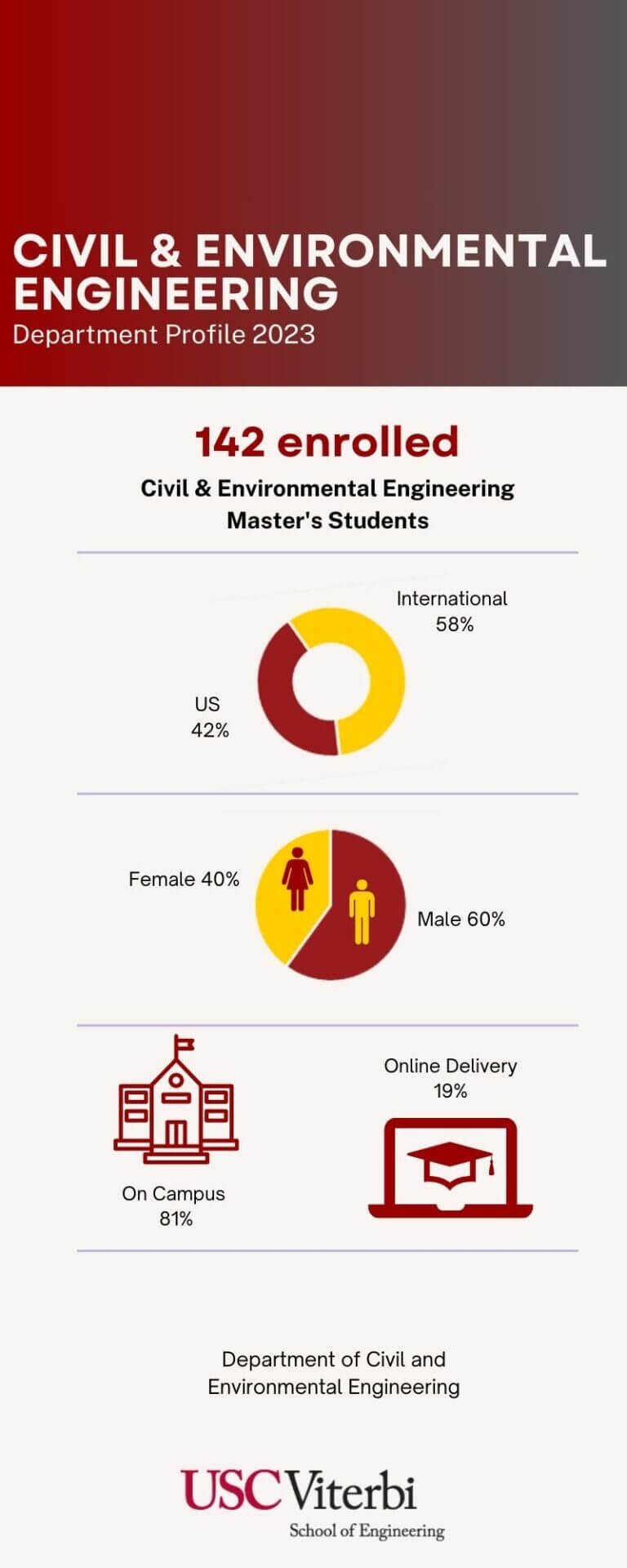 ---
---
Published on July 10th, 2017
Last updated on November 13th, 2023