Master of Science in Biomedical Engineering
Application Deadlines

Spring 2024:
September 15, 2023
Fall 2024:
December 15, 2023
---
The master of science in Biomedical Engineering degree is designed to be completed in two years or less of full-time study beyond the Bachelor of Science Degree. The MS in Biomedical Engineering can be completed with a thesis, requiring 4 units of BME 594abz, or without a thesis, requiring coursework only.
This program requires completion of 28 units of coursework

APPLICATION DEADLINES
| SEMESTER | DEADLINE |
| --- | --- |
| Spring 2024 | September 15, 2023 |
| Fall 2024 | December 15, 2023 |
---
ELIGIBILITY CRITERIA
Applicants to the master's of science programs in Biomedical Engineering are required to have a bachelor's degree or be in the process of completing a bachelor's degree. Degrees in any engineering or engineering-related disciplines are frequently represented among our program applicants, including but not limited to the following:
Biochemistry

Bioengineering

Biology / Biological Sciences

Biomedical Engineering

Engineering

Medicine

Physics
Applicants without a Bachelor's degree in the preferred majors listed above will only be considered with coursework and demonstrated proficiency in the acceptable courses listed below (or equivalent). 
Math
Calculus
Differential Equations
Engineering Math
Linear Algebra
Statistics/Probability
Computer Programming
Electronics
Physics
Applications are reviewed holistically; simply taking these courses does not guarantee admission.
---
APPLICATION REQUIREMENTS
The following materials are required to be included with your online application:
Transcripts
Resume/CV
Personal Statement
Letter of Recommendation (3 required)
NOTE: The GRE is not required for 2024 applications.
For tips on completing your application visit
Ready to Apply
The following link will take you to an overview of the tuition & fees for graduate engineering students, including payment information. Both on-campus and DEN@Viterbi students pay the same tuition
TUITION AND FEES OVERVIEW
---
Estimated Cost of Attendance - 28 Unit Program
Download the Cost of Attendance to see a summary of tuition and fees by semester. The document is a typical example and the number of courses, and time to complete the program, will vary by student.
   HAOTENG TANG
Tell us a little bit about yourself.
I come from Xi'an of China. Both my parents work in a state-owned enterprise. I graduated from one of the best high school in China, the middle school attached to the Northwestern Polytechnical University. Then I joined Xi'an Jiaotong University, one of the best universities in China, and got my bachelors degree in Biomedical Engineering. I then came to USC to pursue my masters degree in biomedical engineering.
What attracted you to choose USC for your graduate studies?
There are several reasons. First, I think that the weather and food in Los Angeles is quite nice with sunshine, beautiful beach and delicious Chinese food in San Gabriel. Second, I consider that USC is one of the best universities in USA, particularly for the engineering field. Thirdly, there is ample education and research resource available here. For instance, I have access to computation resources like GPU by my Lab (LONI), which helps me do my research work. And finally, there are a lot of USC Alumnus in Los Angeles who can help me with my career.
.
   LILY LAU HOU
What's an experience at USC that you'll never forget?
I just returned from an amazing and challenging week at the LeaderShape program where I had the opportunity to share and connect with other 57 amazing USC students from all across the campus. After going through a leadership and personal development, I've realized I became more inspired to make an impact in the world. I engaged in a self-learning process that helped me understand that leadership is not about becoming someone else, but about sharing who we are within our communities. As leaders, we build communities, we challenge ourselves to what could be, and we work towards making vision into reality. I was motivated to head and give back to my USC community. It was a life-changing experience!
What did you enjoy most about living in California?
I enjoy the perfect weather California has to offer! There's plenty of sunshine, easy access to the ocean and delicious food. Another thing I enjoy about California, is the vast presence of biotech and biomedical companies and start-ups. This life sciences and biomedical ecosystem that California has to offer can be taken advantage through networking and career development opportunities.
What are some personal achievements or experiences you'd like to share?
I consider my most notable personal achievement is being awarded a Fulbright scholarship to pursue Master studies in the U.S. This Fulbright experience had given me the opportunity to make friends from more than 70 different countries and different cultural backgrounds, which has helped me grow as a person. This experience has opened my eyes and mind in new ways. 
Is there something that may surprise people to know about you?
If you are in front of me, you would think that I am from China, however, people get surprised that I speak Spanish because I am from a wonderful, diverse, multiracial and culturally mixed country in Central America called, Panama! I also enjoy the diversity and multiculturalism I find in Los Angeles, and I believe that they both bring people closer together through embracing our differences.
.
   NILOUFAR RAJABSHIRAZI
Tell us a little bit about yourself — where are you from, where did you study before USC?
I was born and raised in Tehran, Iran, and moved to the United States about five years ago for school. I received my Associate's degree at Dixie State University and my BS in Biology at the University of Utah. 
What sparked your interest in biomedical engineering?
While attending the University of Utah to pursue my bachelor's degree in biology, I joined a research lab working on cardiovascular devices. Getting familiarized with cardiovascular devices exposed me to the potential of this field and immense effects that biomedical engineering advances have on the lives of patients. Through this experience, I discovered a major that combined my passion for scientific problem solving while allowing me to preserve my focus on engineering with an ultimate result of having a constructive impact on health care. I find this field to be a unique combination of artistry, engineering, and science that can be utilized to advance the wellbeing of others. Therefore, I decided to expand my knowledge in biomedical engineering by completing a degree at USC.
What piece of advice would you give an incoming student?
Try your best to be involved with USC as much as possible. USC offers many resources that not only allow you to build your networking, but also help you discover your passion and strengths to build a stronger resume. Keep in mind that being involved is an ongoing process. I can't tell you how many hours I have spent in my professor's or my advisor's office hours to benefit from their life advice and professional wisdom. Utilizing USC's resources definitely made a difference for me.
.
   JESSE JOHNSON
Tell us a little bit about yourself — where are you from, where did you do your undergraduate studies, how did you find your academic interests, etc.?
I was born in Texas but I lived my high school years in Modesto California before I moved to Riverside to finish my undergraduate studies at UC Riverside where I majored in bioengineering. Growing up, I always wanted to be a doctor. I came to college with a pre-med route in mind, but I fell in love with engineering more and hence switched majors. After my undergrad. studies, I took a gap year and lived in Japan to teach English to have a more diverse launching pad to start up my career in engineering and pursue my masters in bioengineering at USC.
If applicable - how has your studies at USC supported or enhanced your career?
USC has contributed a lot in shaping my thought process in my academics. For example, in my neuroengineering course, I've got to learn a really unique structure in how to think about engineering- you are really getting to learn different ways to solve problems and especially with ones that do not have an exact clear right answer. USC has a very collaborative environment where the class encourages you to work with people around you. This is something that I really appreciate because in the work world, it is not only crucial to show your developed skills but also learn to work with others. Additionally, I can not forget how Viterbi has helped immensely in preparing me well for interviews with practice interview preparation with insightful feedback. This really helped me tremendously in building my confidence for job interviews. 
What advice would you give to prospective students considering biomedical engineering as a field of study?
My biggest advice would be to think about your skill set and what you want to do with it. Most part of my experience in engineering (especially in biotech firms) is broken into three main groups: quality, development, and manufacturing. Schools prepare you really well in development, but I would encourage people to look at other fields. Try to connect with people in the industry so that you can see what kind of skill sets they have and learn from them. Overall, be open and be introspective in the things that you want and build from there.
2022 First Destinations Survey - Outcomes*
Alumni Employment - 2022*
(Companies & Job Titles)
Apple - Applied Scientist
Emulate Inc. - Biomedical Data Scientist II
Johnson & Johnson - Sr. Clinical Engineer
Roku Inc. - Software Engineer
Sorrento Therapeutics - Research Associate
Sound Biologics - Sr. Associate Scientist
United Software Corporation - Software Engineer
Previous Years
Abbott Laboratories

Amgen - Clinical Pharmacology Associate

Applied Biomedical LLC

DePuy Synthes Companies - Design Quality Engineer

Edwards Lifesciences - TDP Engineer

Hengenix Biotech Inc - Research Associate 

IBM - Technical Solutions Specialist

Image Processing and Informatics Laboratory

Inogen - Project Engineer

Medicon Hellas - Chief Operating Officer/General Counsel

Merck & Co., Inc. - Operations Specialist

Neocis - Associate Clinical Sales Representative

Stryker Corporation - Process Development Engineer

Syngenta - Laboratory Assistant

Takeda - Research Associate

Wuxi Biortus Biosciences Co., Ltd. - Researcher
.
Internships (Summer 2023)**
DEKA
Previous Years
Altomni Corp.; Applied Biomedical LLC; Children Hospital of Orange County/ University of California, Irvine; DeepSight Technology, Inc.; Facebook, Inc; Genentech; Guardant Health, Inc.;  Masimo Corporation; Merck & Co., Inc.; Mozza Foods, Inc.; NovaSignal; Subtle Medical; Synthego Corporation; Takeda Pharmaceuticals
.
.
* Information is based on a voluntary survey and should not be interpreted as a comprehensive view of the 2022 graduating class.
** Internship data is from CPT internships done by our international student population.
This program is also available online to professional engineers through DEN@Viterbi. Because the DEN@Viterbi program provides a fully equivalent academic experience, the degree a USC engineering student earns is the same whether they are on-campus or online.
If you are interested in beginning classes as a DEN@Viterbi student next semester, explore the requirements and steps to enrolling as a Limited Status Student.
---
Detailed Program Curriculum and RequirementsSchedule of Classes
---
DEN@VITERBI ONLINE COURSE OFFERINGS
The following courses and program requirements serve as program planning for DEN@Viterbi students. Course offerings and availability are subject to change. Please consult with advisor if you have any questions.
Required Courses
All courses are required - 17 units total.
BME 501 | Advanced Topics in Biomedical Systems (4 units)
BME 502 | Advanced Studies of the Nervous System (4 units)
BME 511 | Physiological Control Systems (4 units)
BME 513 | Signal and Systems Analysis (4 units)
BME 533 | Seminar in Bioengineering (1 unit)
Approved Technical Electives
11-12 units total.
The following list of technical electives may be used in your program without prior approval. If you wish to take a course as a technical elective not listed below, please consult the Graduate Student Affairs Coordinator.
BME 525 | Advanced Biomedical Imaging (3 units)
BME 527 | Integration of Medical Imaging Systems (3 units)
BME 528 | Medical Diagnostics, Therapeutics and Informatics Applications (3 units)
BME 535 | Ultrasonic Imaging (3 units)
BME 650 | Biomedical Measurement and Instrumentation (3 units)
CSCI 561 | Foundations of Artificial Intelligence (4 units)
EE 479 | Analog Integrated Circuit Design (4 units)
EE 482 | Linear Control Systems (3 units)
EE 559 | Mathematical Pattern Recognition (3 units)
EE 562 | Random Processes in Engineering (4 units)
EE 565 | Information Theory and Its Application to (Big) Data Sciences (4 units)
EE 569 | Introduction to Digital Image Processing (4 units)
Please complete the following form for more information.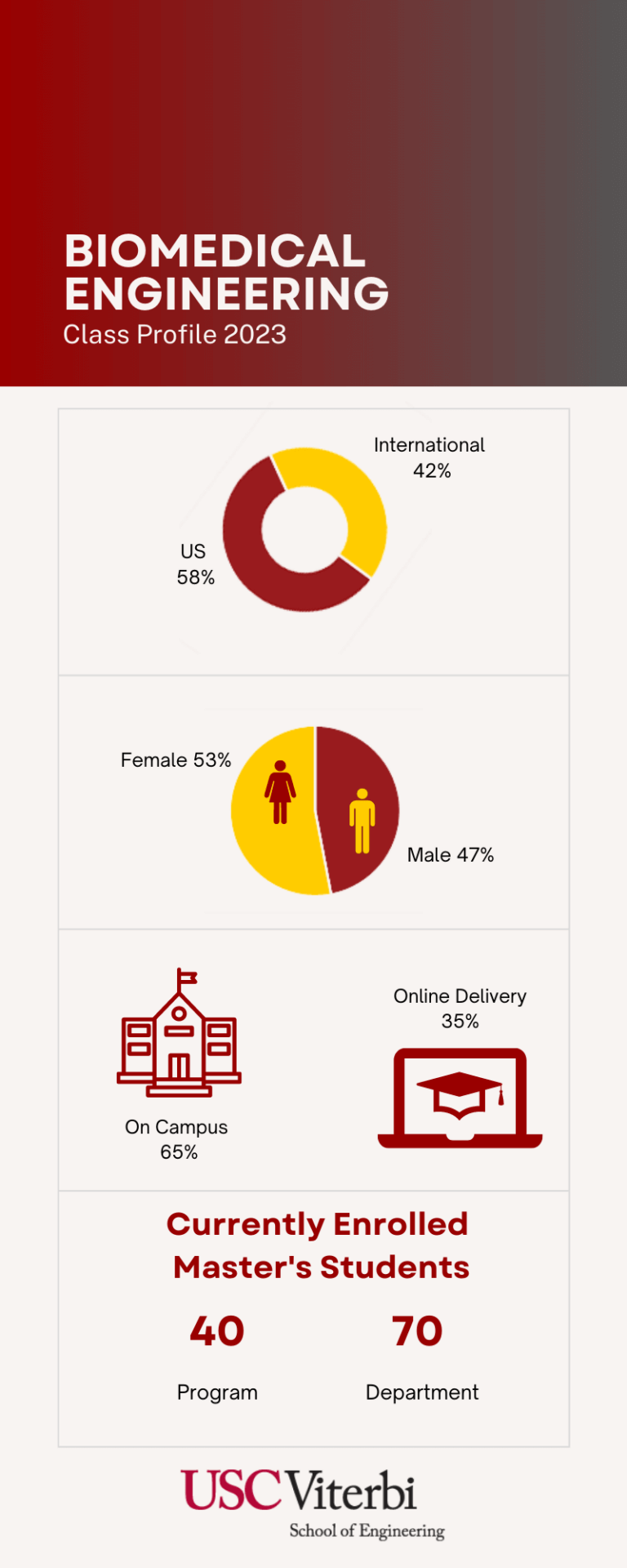 ---
Published on June 9th, 2017
Last updated on October 20th, 2023